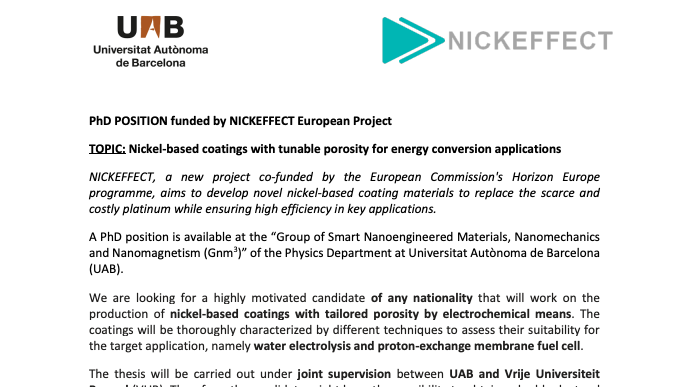 PhD positions funded by the NICKEFFECT Project
Universitat Autònoma de Barcelona and Professor Eva Pellicer have 2 vacancies for 2 PhD students in the scope of the NICKEFFECT project.
Check below for more information.
TOPIC: Nickel-based coatings with tunable porosity for energy conversion applications
NICKEFFECT, a new project co-funded by the European Commission's Horizon Europe programme, aims to develop novel nickel-based coating materials to replace the scarce and costly platinum while ensuring high efficiency in key applications.
A PhD position is available at the "Group of Smart Nanoengineered Materials, Nanomechanics and Nanomagnetism (Gnm3 )" of the Physics Department at Universitat Autònoma de Barcelona (UAB).
We are looking for a highly motivated candidate of any nationality that will work on the production of nickel-based coatings with tailored porosity by electrochemical means. The coatings will be thoroughly characterized by different techniques to assess their suitability for the target application, namely water electrolysis and proton-exchange membrane fuel cell.
The thesis will be carried out under joint supervision between UAB and Vrije Universiteit Brussel (VUB). Therefore, the candidate might have the possibility to obtain a double doctoral degree issued by the two universities at the end of the PhD.
We are looking for applicants with a Master of Science degree. Therefore, students with an MSc in Chemistry, Materials Science, Physics or related fields are invited to apply especially. Previous expertise on electrodeposition and coatings characterization by electron microscopy, X-ray diffraction, X-ray photoelectron spectroscopy, etc. will be valued, as well as, general knowledge in electrochemistry.
The duration of the appointment is 3 years and the annual gross salary is ca. 29K €. For further information, please see: http://jsort-icrea.uab.cat/
Interested applicants should send a full CV, a Letter of Interest and the Contact Details of two senior researchers which could support their application before 30/08/2022 to [email protected] and [email protected]
Read the original vacancy pdf.